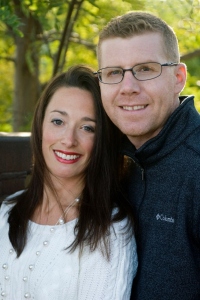 Turning Leaf Fine Homes Inc. is located it Traverse City, Michigan – a hidden gem nestled between the Leelanau and Old Mission Peninsula's. Surrounded by dunes, beaches and lush green forest, Traverse City is truly "The Heart of Nature's Playground." Luke Schwartz and his wife Anne have been blessed to live in Traverse City all of their lives. Both Luke and Anne have multi-generational roots in The Traverse City area, thus creating a deep love for the Grand Traverse region. They share this love with their three sons.
Luke began developing his craft and respect for construction in his early teens. Throughout his beginning years, Luke was fortunate to have been an apprentice to many of the "greats" in the local construction industry. Luke has truly developed his talent over the past sixteen years and continually seeks out new ways of learning innovative ideas. In 2006 Luke began to offer custom home design plans using CAD technology.
Anne Schwartz is the go-to girl. Anne assists in the office and holds the "running back" position on the team. Anne assists clients with interior design selections and facilitates all administrative duties. Conveniently Anne is also an Associate Broker at Re/Max Bayshore Properties and gladly assists Turning Leaf clients with any real estate needs.
The Turning Leaf team strives to offer a full service approach by making the home building/renovation process seamelss and hassle free.